Cash Clash Guide
Social Tournaments added a new feature allowing players to enjoy Pragmatic slots differently than before. If, up until now, Social Tournaments provided the tools for players to play slots tournaments of different formats based on Pragmatic Play slots free, now we built a feature that enables a new way to play that's closer to how slots are meant to.
How to Play Cash Clash
The steps to play with the Cash Clash feature active are easy to follow. Before jumping into the details, we want to introduce a new concept: Social Tournaments Cash (STC).
What is Social Tournaments Cash (STC)
Social Tournaments Cash (STC) is a new currency we're introducing on our platform. Players will receive daily STC recharge upon login, which they can use exclusively to play Pragmatic slots with the Cash Clash feature. They will not be able to withdraw them or use them for any other purposes.
Steps to Play Cash Clash
Step 1: Log into your Social Tournaments account daily. You will be granted $1000 in STC every day. You'll be notified of your STC reload.
Step 2: Go to the Cash Clash page, where you can play 

free spins no deposit

, and select the Pragmatic slot you want to play from the list displayed. You'll find 9 slots options displayed at any time, with the last one being a surprise slot – the algorithm will pick a random Pragmatic Play slot.
Step 3: Play the chosen slot and watch your balance go up and down, similar to the experience in an online casino, placing you on a position on the leaderboard. At the bottom of the playing screen, you'll see your Balance updated on every spin, your position on the leaderboard, and the time remaining until the playing session ends.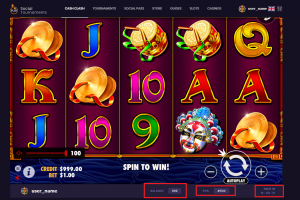 With the Cash Clash feature, players are able to change their bet using the two "+" and "-" buttons from the sides of the Spin button. This will impact your balance, just like playing at an online casino.
Step 4: Changing the game – if you decide you want to try your hand on a different game, you can simply pick another one from the list, and your balance will follow you to the next slot.
Step 5: Leaderboard – the leaderboard is created when the time for a specific slot ends. Basically, you need to play until the time runs out, keeping your balance as high as possible. The prize pool for each Cash Clash is € 250, divided between the first places on the leaderboard.
Cash Clash Leaderboards – Three Different Winning Mechanisms for Playing Slots no Deposit
There are three leaderboard mechanisms you can play Cash Clash with:
Total Balance Leaderboard – your balance determines your position on the leaderboard when the time runs out;
Total Wager Leaderboard – working under Total Win rules, this one adds up your wagers, and places you amongst other players. In other words, the amount you wagered will matter when the time runs out;
Max Multiplier Leaderboard – the highest multiplier you hit places you in a position on the leaderboard. If more players happen to hit the same multiplier, their ranking will be based on:
Stake – the one with the higher stake will rank higher;
Time – the one who hit the multiplier first will rank higher.
It's important to know that the leaderboard mechanism will be chosen randomly every day, so please check the leaderboard type before playing, so you know what you're going into.
How to reset your STC
Social Tournaments offers two ways to recharge your STC balance without waiting for the daily refill.
Option 1: Reset button on Cash Clash page – right by your balance, you'll notice a yellow button – the recharge button. When you click on it, you'll be asked to buy a Cash Clash Reset Ticket for 2000 coins. Please note that the recharge will empty your balance and add 1000 STC instead – so, it's not an additional 1000 STC. Your current balance will be removed and replaced with 1000 STC.
If you already own a Cash Clash Reset Ticket, you can reset your STC balance by utilizing a ticket from your Collections.
Option 2: The second option requires a trip to the Social Tournaments Store! Once you open the Store page, scroll down to the Tickets Category.
Now that you are in the Tickets section, select the Cash Clash Reset Ticket – make sure you have the 2000 required coins!